Harrison REMC is a not-for-profit organization, locally owned and operated by the members it serves. The co-op employs 49 people and serves 22,000 members in parts of Harrison, Floyd, Crawford, Clark and Washington counties in Southern Indiana.
Harrison REMC is part of a national group of over 900 electrical distribution cooperatives in 47 states that serve over 42 million people. Electric co-ops in the U.S. own and maintain 2.5 million miles of line and cover three quarters of the nation's land mass. 
Our Mission Statement

The mission of Harrison REMC is to provide a well-informed membership with superior, competitively priced electric and related member service(s), accomplished by highly trained, committed employees. It is further the mission to improve the quality of life of the member-owners by promoting community, economic development and energy efficiency activities.
---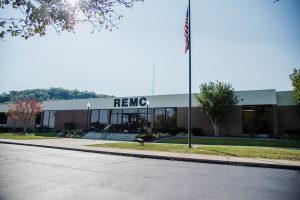 Electric cooperatives were formed because big investor owned utilities decided there was no profit to be made extending power lines into the countryside to electrify farms and small towns.  In 1933, Indiana farmer and Farm Bureau Manager I. Harvey Hull and others took a trip to London for an international cooperative conference.  While traveling in Norway and Sweden, he discovered that 65 percent of their rural areas were electrified through a group of electric cooperatives.  Consumers owned their electric lines by obtaining government financing for long-term, low interest loans.  Hull returned to Indiana believing that this model would work in America and would bring much needed electricity to the rural areas.  Working alongside attorney Frederick Barrows, Hull began to draft legislation which allowed for the formation of the REMCs across the Hoosier state.  On March 9, 1935, Gov. Paul V. McNutt signed the Indiana REMC Act into law.  This was the first of its kind in the country.
Nationally, President Franklin Delano Roosevelt saw the solution of this hardship as an opportunity to create new jobs, stimulate manufacturing, and begin to pull the nation out of despair and hopelessness of the Great Depression.  On May 11, 1935, he signed an executive order establishing the Rural Electrification Administration (REA).  One of the key pieces of Roosevelt's New Deal initiatives, the REA provided loans and other assistance so that rural cooperatives (basically groups of farmers), could build and run their own electrical distribution systems.  This was the beginning of rural electrification in America. 
Harrison REMC came into existence on Sept. 19, 1938, when five rural residents appeared before the Indiana Public Service Commission with the request for a franchise for the service of members in a five-county area.  The franchise was granted that day and another request was made for an allotment of funds from the REA (Rural Electrification Administration).  On Dec. 30, 1938, a telegram was received from the REA that Harrison REMC had been given an allocation of $387,000 to bring electricity to this area of rural Indiana. 
So, it began and on June 30, 1939, Harrison REMC set the first pole on the Rupp farm, southeast of Corydon.   The co-op was energized on Sept. 22, 1939, and 83 members were the first to be given electricity.  At the time, the headquarters were located in the Kintner building in downtown Corydon.  The rural electric cooperative model was introduced in Southern Indiana.
Cooperatives are operated on seven principles.  They were once called the Rochdale Principles of Co-operation, now called the Cooperative Principles. Harrison REMC adheres to these seven cooperative principles; this is what makes cooperatives different than other businesses.  They are:
Voluntary and Open Membership: While some organizations have membership criteria and restrictions; cooperatives are open to all, regardless of gender, social, racial, political or religious affiliation.
Democratic Member Control: This principle embodies the concept that all members of the cooperative help drive decision making. They not only participate; all members have an equal level of participation. Electric cooperatives may have a manager, department managers and other employees but the control of the cooperative is undoubtedly in the hands of the members. Harrison REMC is governed by a board of nine directors, elected by the membership, to provide oversight of the REMC.  The directors are local people who live in the REMC service area and strive to provide you with reliable power at cost.  The membership votes on director candidates at the cooperative annual meeting.
Members' Economic Participation: The goal of the electric cooperative is to deliver affordable, quality service at cost to members.  This is the essence of being a member; service at cost, shared by members.  Once expenses are paid, what remains is known as margins, which is then returned or credited to our members, unless the margins are needed to fund system improvements or expansion.  This return is called capital credits and the amount refunded is based on electricity used for a specific time period.  The REMC has returned $2,930,920 in capital credit retirements to members.  Last year $202,406 was returned to the membership.
Autonomy and Independence: Harrison REMC is not owned by outsiders and operates independently of other organizations.  It is owned and controlled by all members who are served by the co-op.   The REMC follows all applicable laws, but holds nothing to shareholders like investor owned utilities.
Education, Training and Information: Education is a key principle in the cooperative business model. Electric cooperatives educate members about electric equipment, appliances, energy efficiency and safety among other topics.  Another large group we educate is our youth.  We provide opportunity for them to attend the Youth Tour to Washington, D.C., we offer scholarships and we visit schools offering electric safety training and education.
Cooperation among Cooperatives: While cooperatives exist for our members, this principle goes beyond that to include our fellow cooperatives.  This truly is the cooperative difference. Reaching out and making a difference for other cooperatives strengthen the entire group.
Concern for Community: We live here, we work here.  When people work together, watch out for one another, and support community efforts, it's a win-win for all.  Cooperative employees serve on the boards of civic groups, youth groups and other organizations. Cooperatives are very interested in keeping the communities they serve thriving. 
Harrison REMC takes the cooperative principles very seriously and they are used frequently in day- to-day business serving our members. In addition to electrical service, Harrison REMC is deeply involved in the communities we serve. Many Harrison REMC employees are involved in volunteering with local organizations.  These individuals support area events through donating their time, money or serving on local boards of community groups. Harrison REMC is also located in the communities we serve; if members wish to speak to the manager or department head it can be done. Employees of the REMC work and live in the same community and go to the same churches, schools and businesses as our members. Harrison REMC supports the state and the counties we serve. 
The local REMC also offers many community services to our members. Each year the Easter Bunny and Santa Claus visit Harrison REMC, offering the public the opportunity to bring their children to have their picture taken free of charge. For the past 8-10 years, the REMC has offered bus trips to various points of interest.  Approximately 5 trips are taken each year at a minimal cost. Harrison REMC offers home seminars to members.  The REMC offers a yearly seminar for emergency personnel in our service area.  This evening includes a meal and a presentation of a safety concern or information to benefit this group.  It is the REMC's way of thanking those who volunteer their time and helping us in certain emergency situations. 
Cooperatives are special. One of the principles the REMC follows is Cooperation among Cooperatives. This means the co-op works with other cooperatives by exchanging ideas and resources, as well as educating state legislators of possible changes in the industry allowing them to make better decisions. Harrison REMC has many partners and resources on the local, regional and national level to promote ideas, foster development, provide educational resources and provide a venue to examine and act on common concerns of cooperatives.
Hoosier Energy is the power supplier to Harrison REMC and 17 other cooperatives in Central and Southern Indiana, and southeastern Illinois. Because of Hoosier Energy, Harrison REMC is able to offer heating and cooling and water heater rebates to our members. These rebates give members the opportunity to purchase newer, more efficient units for their homes.   
Harrison REMC also has a strong relationship with our statewide organization. Indiana Electric Cooperatives (IEC). Established in 1935, it brought our communities together to serve as a central resource to meet the needs of its member cooperatives. Working together, IEC and Harrison REMC along with Indiana's other electric cooperatives partnered to become an effective team. With the help of our statewide organization the REMC is able to offer our annual Youth Tour trip to Washington, D.C., to two high school juniors. This week long trip offers students the chance to learn about U.S. and government history as well as learning about electrical cooperatives. The Indiana delegation includes about 75 students who join nearly 1,600 students- representing 44 states for the Youth Tour which is sponsored by the National Rural Electric Cooperative Association (NRECA). IEC also offers continuing education for REMC employees and directors. IEC, along with co-op input, publishes our monthly magazine, Indiana Connection. This magazine allows the REMC to get vital information to our members. This may include changes happening in the co-op, safety information or opportunities for our members. Whether standing together in times of disaster or facing the many challenges of a complex industry – the partnership is vital to co-op existence. 
The NRECA is the national service organization of which Harrison REMC is a member. Members include more than 900 not-for-profit rural electric cooperatives and public power districts. This governing body makes sure that cooperatives operate in a manner consistent with cooperative principles and the NRECA's purposes. The utmost obligation is to serve our members by providing safe, reliable and affordable electric service. 
Harrison REMC also relies on other organizations to help educate members about power.
Rural Utilities Service (RUS) is one of the organizations that provides co-ops with low interest loans. Providing reliable, affordable electricity is essential to the economic well-being and quality of life for all of the nation's rural residents. RUS's electric programs provide leadership and capital to upgrade, expand, maintain, and replace America's vast rural electric infrastructure. Under the authority of the Rural Electrification Act of 1936, the electric programs make direct loans and loan guarantees to electric utilities to serve customers in rural areas.
Harrison REMC, with the help of our co-op partners, operates for the benefit of our member/owners. Times have changed in the last 85 years. Consumers have changed. The cooperative territory is now a mix of both residential and industrial/commercial members.  Industrial/commercial business has increased over the years and now makes up about 30% of the co-op business. Horseshoe Casino, WalMart, Daramic and Koetter Manufacturing make up some of the larger businesses in the service area. Besides the changes in our membership there have been many changes in technology through the years.
In the early years of the REMC, members personally recorded their meter reading each month and mailed it to the office. Automated meters now download radio-transmitted data directly into computers that process the meter readings and generate the monthly electric bills.
An in-house network and technology center has modernized processes for accounting, payroll and human resources, consolidated inventory and purchasing procedures. It also assists in power outage restoration. This integrated technology allows all computers to talk to each other, streamlining office services, workflow, power grid monitoring, and outage management capabilities.
Linemen used to have to "run the lines" when there was a power outage, driving the countryside looking for the source of the problem. This is a lengthy and cumbersome process and an inefficient use of man hours and resources, as well as an inconvenience to our member consumers. Now, with 21st century electronics, the REMC is able to isolate and monitor major outages from the office. In some instances, crews can be dispatched to the predicted problem source, expediting repairs and reducing outage times for our members.
Old line trucks were previously a mode of transportation and little more. Current line trucks now are modern pieces of equipment with computers that house maps of our distribution system and soon will provide global positioning locations of all of REMC equipment, and transmit critical information to and from the headquarters office.  Even though the co-op has undergone tremendous changes in the last 80 years, we still remain true to the cooperative principles we were founded on. 
Harrison REMC looks forward to continuing to provide reliable, affordable and safe electricity to our members.  The REMC is committed to the communities we serve and will continue to support our members, enrich our communities and remain a positive local presence.